ELECTRICAL AND INSTRUMENTATION
We offer fully integrated systems for your Power, Lighting and Control Systems needs. Our specialized labor force has the knowledge and capability to build custom-designed or industry standard Electrical Equipment and Panels, Low and Medium voltage wiring, Switchgear and Motor Control Centers, Warning and Communication Systems, and more. In addition to new construction, we also offer Project Management, Commissioning and Consulting services.
We meet the demands of many industries including Commercial Enterprises, Municipal, Educational & Health Facilities, Oil & Gas Production, Marine & Offshore Construction, Specialized Structures and Vessels, etc. We have solid and long-standing relationships with contractors and vendors who service these industries.
POWER AND LIGHTING
We design and install complete Industrial, Commercial and Marine electrical services, including main switchgear, grounding systems, service entrance and power distribution systems (480/277 volt and 120/208 volt), power feeders, panelboards, and distribution wiring (in conduit, cable tray, bus duct, etc.).
We also handle complete lighting systems, including LED, high-bay & low-bay HID and hi-bay fluorescent lighting, Class 1, 2 / Div 1, 2 hazardous location explosion-proof lighting.
SYSTEMS
We install and/or connect integrated systems such as : Fire and Gas, Security and Surveillance, HVAC, FM200, ESD/Abandon Platform Alarm, General Alarm, Survival Craft, Helideck Refueling, Aqueous Film Forming Foam (AFFF), Card Access, etc. Our experience and commitment to quality ensures these sophisticated systems perform per their design.
TELECOMMUNICATIONS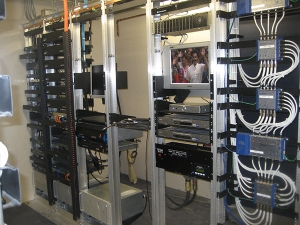 We install complex telecommunications systems including ETV, voice and data, communications and control rooms, antenna, and videoconferencing. We are fully experienced with I/O and marshalling control systems, cabinets, rack systems, etc. Our structured cabling services include installation and termination of control access wiring, coaxial cable (including RG-6 and RG-11), CAT5E and CAT6 cable, and single mode fiber optic cable, including certifications as required.
Staying on the cutting edge of communications technology is vital, and we can be your trusted partner in your future telecom needs.